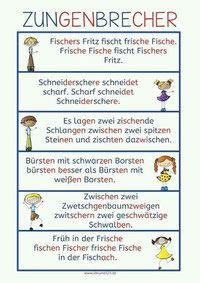 1. WIEDERHOLEN - to repeat 
Können Sie das bitte wiederholen! Perhaps you did not understand the telephone number and want someone to repeat it. Bitte wiederholen Sie! Please repeat! You would use this in a formal or business situation.
Du musst es wiederholen - You will have to repeat it.  Die Führerscheinprüfung, du musst sie wiederholen. The driving test, you have to repeat it.
You can see I used wiederholen for Führerscheinprüfung or you can use it for any test. Die Deutschprüfung. The German exam. Du bist durchgefallen. You failed. Du wirst den Test wiederholen müssen! - is more of a suggestion. You will probably have to repeat the test. It is also used for revising vocabulary. Du hast alles vergessen! You forgot everything! Du wirst die Vokabeln wiederholen müssen!  You'll have to repeat the vocabulary. 
- Ich muss wiederholen, was ich letzte Woche im Unterricht gelernt habe.
I need to go over what I learned in last week's lesson.
2. DURCHLESEN / DURCHSEHEN  - look through it / review it
- Mein Kollege möchte, dass ich seinen Bericht durchsehe.
My colleague wants me to review his report.
- Sie will, dass ich es durchlese.
She wants me to look through it. 
- Sorg dafür, dass du den Vertrag durchliest, bevor du ihn unterschreibst.
Make sure you look through the contract before you sign it.
- Kannst du meine Sätze durchlesen, und mir sagen, ob es stimmt?
Will you look through my sentences and tell me if I'm correct? 
3. NOCH EINMAL - one more time or once more
- Können Sie das noch einmal sagen - can you say it again is more conversational. Mach das noch einmal! Do it one more time! Hoffentlich macht er das nicht noch einmal. I hope he doesn't do it again!
- Ich möchte es das erste Mal richtig machen, damit ich es nicht später nochmal machen muss.
I want to do it right the first time so that I don't have to do it again later. 
Danke fürs lesen und bis zum nächsten Mal...